Continuing Veterinary Education Events
Our Upcoming Education Event Series
As part of our commitment to supporting the growth and development of the veterinary profession, WAVES conducts a range of events throughout the year.
Our educational events primarily serve to provide opportunities to update and develop medical knowledge and skills but may also include other topics like management, team building, interpersonal communication, and personal health.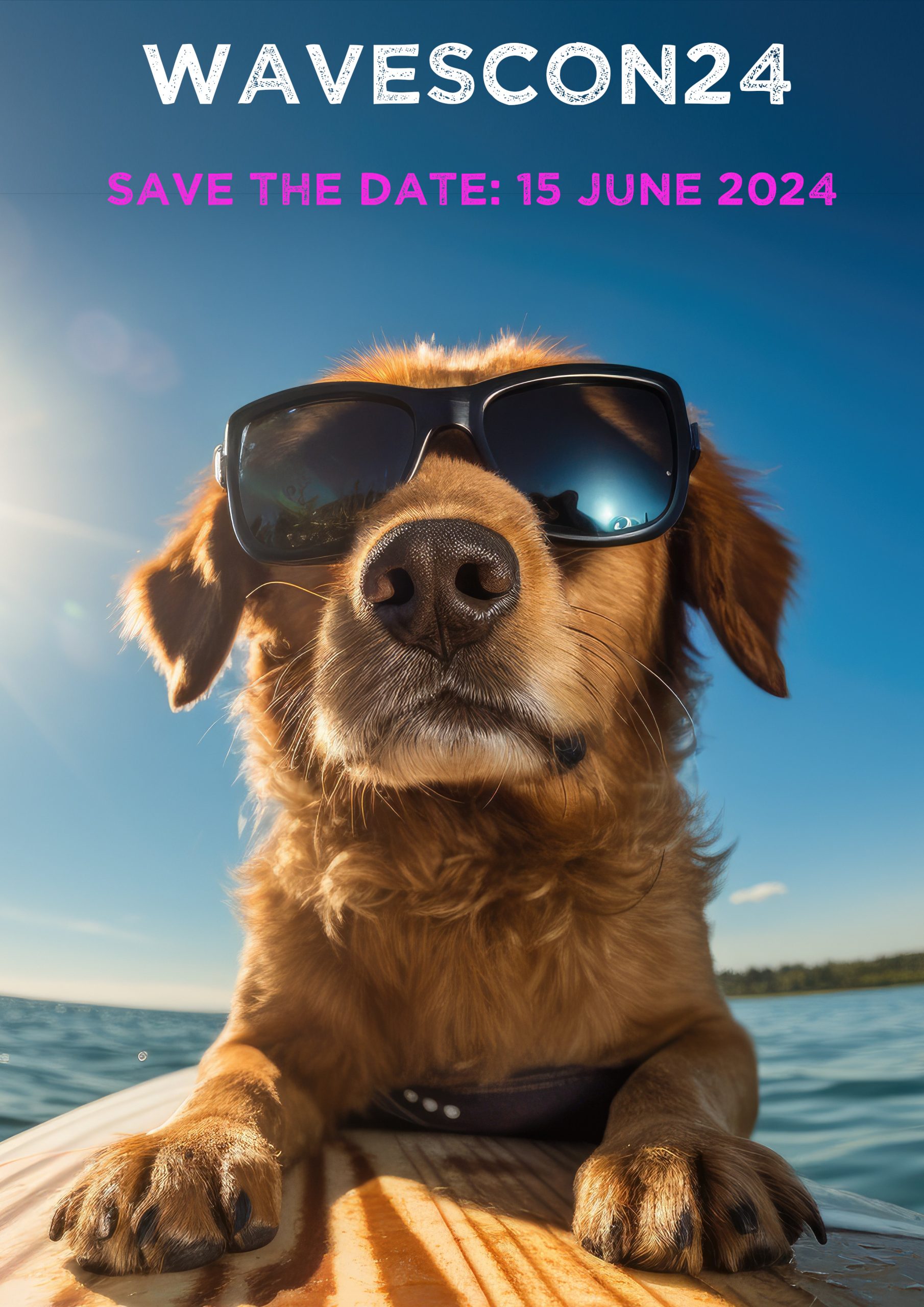 WESTERN AUSTRALIAN VET CONFERENCE – WAVESCON2024
SAVE THE DATE – 15 June 2024
WAVESCON24 is WAVES' one-day annual conference in 2024, bringing the Western Australian veterinary community together for a day of continuing education and to celebrate our profession.
With one dedicated nursing stream and two veterinary streams, there is bound to be something to interest everyone. The conference will be followed by a themed party – Surfing Summer in June.
Join us for a full day of learning and networking at the Pan Pacific Hotel on the 15th of June 2024. Our conference will kick off at 8:00 AM and run until the final session concludes at 5:30 PM. Afterward, we invite you to the Surfing Summer Extravaganza, which wraps up at 10:00 PM, providing a fantastic opportunity to unwind and connect with your colleagues.
This is a non-profit continuing education event with all fees and sponsorship going to hosting the event.
Our WAVESCON23 partners – Proudly supporting the Veterinary Industry in Western Australian:



Dr Rebecca Nilsen BSc BVMS (Hons) MANZCVS (Small Animal Dentistry and Oral Surgery) President Australian Veterinary Dental Society
Dr Rebecca Nilsen owns and operates The Smiling Pet Veterinary Dental Services and WAVES Dentistry. Rebecca graduated from Murdoch University in 2012, working in general practice and emergency medicine. It was during this time that Rebecca noted a need for improvement in veterinary dental care and in 2018 completed her memberships in Small Animal Dentistry and Oral Surgery with the Australian and New Zealand College of Veterinary Scientists. Since 2018 Rebecca has worked exclusively in dentistry as a referral vet for more than 160 clinics in Perth and regional areas. Rebecca practices with the ethos that every animal deserves a pain free mouth. When not at work Rebecca enjoys spending time at the beach with her loveable rescue dog Libby, and catching up with family and friends.
---
Dr Tiarni Johnston BVSc (Hons) MANZCVS (SAM)
In 2017, Dr Tiarni Johnston received her degree from The University of Queensland and went on to complete two internships in emergency/critical care and internal medicine. Following this, she worked in the emergency department of a bustling referral center located in Brisbane, Queensland. In 2022, Tiarni successfully passed the ANZCVS membership exams, and this year, in 2023, she began her residency in small animal internal medicine with WAVES.
---
Dr Meng Siak BVMS MANZCVS (Canine Medicine) FANZCVS (Veterinary Dermatology)
Dr Meng Siak graduated from Murdoch University in 2006. He spent a year in private practice before returning to Perth to pursue his dream. From 2008 to 2014, he underwent rigorous training, starting as an intern and then as a resident in Veterinary Dermatology. In 2014, his dedication and hard work paid off when he passed the examinations to become a Specialist Veterinary Dermatologist with the Australian and New Zealand College of Veterinary Scientists (ANZCVS).
In 2018, Meng established WAVES dermatology, reconnecting with former colleagues and friends. With the help of his peers, the dermatology clinic has flourished over the last five years, and is now a thriving dermatology service. Meng's passion for continuing education is well known, having served as the Oceania/Asia representative for the Global Veterinary Dermatology Education Group (GVDEG), a non-profit organization dedicated to providing continued education in underserved countries around the world, from 2018 to 2022. In addition, he has also been invited to speak at national and international conferences, including WSAVA 2018 and World Congress Vet Dermatology 2020, cementing his reputation as an expert in his field.
---
Dr Rita Singh
Dr Rita Singh obtained her veterinary degree from Murdoch University in Perth, WA in 1995. After a two year stint in the UK, she returned to Australia to complete a rotating internship in Small Animal Medicine and Surgery at the University of Sydney. This was followed by a three year residency in Small Animal Internal Medicine at the Veterinary Specialist Centre in Sydney. It was during this time as a resident that she came to realize that cardiology was her true passion. In 2008 Rita commenced a cardiology residency at the University of California, Davis and became a Diplomate of the American College of Internal Medicine in Cardiology in 2011.
Rita loves all aspects of veterinary cardiology and is devoted to providing quality and compassionate care for your family members.  While the majority of our patients are dogs and cats, Rita has also been trained in cardiology of horses and exotic species including ferrets, rabbits, guinea pigs, birds, turtles, snakes, iguanas, monkeys and large cats.  Rita is also experienced in providing surgical and interventional procedures for your family members including pacemaker placement and correction of certain arrhythmias.
---
Dr Eefung Teo BVSc (Hons) MANZCVS (ECC, SAM)
After graduating from the University of Melbourne in 2009, Dr Ee Fung Teo (Teffy) spent several years in Singapore where she primarily worked in general practice, emergency, and critical care. During this time, she developed a strong interest in internal medicine and emergency and critical care. Teffy pursued these interests by completing Australian and New Zealand College of Veterinary Scientists membership examinations in these subjects.
In 2019, Teffy relocated to Perth to further her career and began working as an emergency veterinarian at WAVES. She is currently in the middle of fulfilling her dreams by pursuing an Emergency and Critical Care residency at WAVES.
---
Dr. Liam Clay PhD BAppSc (Vet tech) VTS (Behavior) BAppSc (Hons)
Dr. Liam Clay is an expert in canine behaviour and a dedicated educator. Liam earned his Bachelor of Applied Science, with a major in Veterinary Technology and a specialisation in Behaviour, from the University of Queensland (UQ) in 2020. He went on to complete his honours degree in Stress and Behavioural Problems and a PhD in Canine Behaviour Assessment, Behavioural Problems, and Adoption Suitability in Australian Shelters, through UQ.
Liam's passion for research and his collaboration with RSPCA Queensland have led to the development of innovative programs in behaviour and the improvement of animal welfare. He continues to work with UQ, teaching undergraduate studies in Animal Behaviour, supervising research, and mentoring students during work placements.
Liam's expertise in animal behaviour has earned him invitations to speak on a variety of topics, including Animal Behaviour, Anatomy and Physiology, Neurology, Shelter Behaviour, and Behavioural Problems at universities throughout Australia. He has contributed to several publications on Canine Behaviour in shelters and is a co-author of a recent book on animal-assisted therapy.
In his spare time, Liam enjoys exploring the Australian outback through camping trips and creating free online content to educate the public and students on canine behaviour. With his dedication and expertise, Dr. Liam Clay is making a significant impact on the field of animal behaviour and welfare.
---
Dr Ellie Drynan BVSc MANZCVS DACVAA
Dr Ellie Drynan graduated from the University of Sydney in 2002. Following graduation she worked in both mixed and small animal practice in Melbourne, London and then back here in Perth. In 2007 she commenced an anaesthesia residency at Murdoch University and in 2013 obtained her Diplomate of Anaesthesia and Analgesia. In 2017 she joined the WAVES family providing an anaesthesia service for all animals but particularly for the critically-ill patients.
---
Suzie McLean BPsych (Hons), MAP (Org), CertIV VN
Suzie is a registered psychologist and qualified veterinary nurse with an extensive and varied career in veterinary nursing spanning 20 years.
Suzie's return to study in 2013 to become a psychologist was directly related to aspiring to affect change in the wellbeing and productivity of veterinary professionals at an individual, team and organisational level.
As a psychologist working in organisational settings, Suzie brings a keen understanding of human centred design principles and experiential learning.
Her commitment to the wellbeing and productivity space has resulted in the development and delivery of key programs for leaders and employees in a variety of organisations and is a regular speaker on the topic.
---
Veterinary and Community Care (VaCC) – Dr Robyn Whitaker & Erica Honey
Dr Robyn Whitaker – Having practiced as a small animal veterinarian for over 30 years, and working in management within both private and corporate practices, Robyn has been aware of the increasing challenges facing the veterinary profession which now sees it in the grips of a mental health and workforce crisis.
Connections and alliances with friends and colleagues enabled Robyn to see an opportunity to contribute a solution to this crisis. This has led Robyn to becoming a self-proclaimed "Veterinary Social Work Advocate".
Erica Honey has a Masters in Emergency Management, and qualifications in biomedical science, honours research, policy and development, and veterinary nursing. She is in the final 6 months of her double master of business administration and human resource management. Erica has experience working in disasters, crises, and volunteer veterinary development programs. Erica joined VaCC in 2023 as a VaCC Champion, motivated to create resilience in the veterinary industry after a career of seeing the ethically challenging situations that veterinary personnel face and, the access and support that those in need, experience. Erica's VaCC role is to assist in the growth and inclusion of VaCC programs such as veterinary social workers and access to veterinary care, with key stakeholders. She has a deep interest in assisting people and pets experiencing homelessness and crises.
---
Dr Tracey Thornton BSc BVMS MANZCVS
Dr Tracey Thornton graduated from Murdoch many moons ago and worked in mixed practice for a couple of years before returning to undertake a residency in Anaesthesia. In 2008 she opened Heartlands Veterinary Hospital, a truly mixed practice in York. The practice has grown exponentially, opening branches in Toodyay and Brookton, and now employs over 30 people (many of whom are part time). In 2021 the York practice moved into a new, state-of-the-art, purpose-built hospital designed to optimise patient and staff well-being. Tracey is passionate about our profession and about trying to facilitate sustainable careers for the people within it.
---
Dr Aaron Moles BVSc BSc(Vet) MANZCVS (SAS) DipECVS
Dr Aaron Moles embarked on his journey by obtaining his veterinary degree from the University of Sydney in 1994. After migrating north to the sunny
shores of Queensland, he started work at Oakey Flat Road Veterinary Surgery in Morayfield and took ownership soon after. Over the next eleven years he went from living above the premises of his practice and doing the hard slog of single person practice to building a successful three veterinarian general practice.
Driven by his passion for surgery, Aaron sought to further specialize in the field. In 2005, he became a member of the Australian College of Veterinary Scientists through examination in Small Animal Surgery. Seeking to improve his skills further, he commenced a residency in surgery at Murdoch University.
His dedication and pursuit of excellence lead to attainment of the status of a diplomate of the European College of Veterinary Surgeons. With his extensive knowledge and expertise, Aaron founded a WAVES mobile surgical service in collaboration with general practices throughout Western Australia, providing specialized surgical care to a wide range of patients. This mobile surgical service has evolved into the WAVES Hospital today — a multidisciplinary specialist and emergency hospital in Perth, Western Australia.
---
Dr Timothy Foo BVMS MANZCVS (Radiology) MVetStud DipECVDI
Dr Tim Foo is a Murdoch graduate and a Perth local. Since vet school Tim always wanted to be a radiologist. Interesting multidisciplinary cases, flexible working hours, minimal client contact, ability to wear white shirts and shoes to work… it sounded like a dream. Upon graduation, Tim tried to be a real vet, working in a busy small animal practice for four years. Following this, he started a radiology residency at the University of Sydney, and after obtaining board certification in radiology in 2019, he returned to Perth. Tim has been at WAVES ever since. He enjoys all aspects of radiology and still occasionally wears white shirts to work.
Master of Ceremonies
Introducing our Master of Ceremonies for the gala: Peter Rowsthorne, a seasoned entertainer, actor, and writer with extensive experience in hosting high-profile events. For over two decades, he has been a beloved presence on our screens, bringing laughter and joy to millions of viewers.
Peter began his career as a stand-up comic and writer, gaining recognition as a performer on The Comedy Company and appearing in various films and shows such as Crackers, The Gift, Bad Eggs, Take Away, Little Oberon, and Let the Blood Run Free. He is best known for his role as Brett Craig, patient husband of Kim, and for surviving 40 days in the jungle on the fourth season of I'm a Celebrity…Get Me Out of Here!
With his charming personality and impeccable wit, Peter is a household name in the entertainment industry. He is known for his quick thinking and ability to keep the audience engaged. We are honored to have him as our host and guide for a night of celebration and entertainment, and we're sure he won't be bringing his beloved Rottweiler Cujo along this time!
The Ritz-Carlton
To access the special rate of $450 (Deluxe Room Only) per room per night, please contact the hotel for reservation and specify that you are an attendee of WA Veterinary Emergency & Specialty (WAVES)
Duxton Hotel
Click on this link to book 1 or 2 nights at the discounted rate of $255 per room per night (Deluxe King or Deluxe Twin)
If you wish to book in for longer periods of time, please call straight through to reservations to organise: 08 9261 8000 or e-mail: thijs.roos@perth.duxton.com.au and advise you are attending the WAVES Conference.
DoubleTree by Hilton
Click on the link below to access 15% off DoubleTree's best available rate with a special breakfast rate of $25.00 per person upon consumption, at each hotel restaurant.
DoubleTree by Hilton Perth Northbridge
DoubleTree by Hilton Perth Waterfront: 
Quay Perth
Click on this link and apply the promotional code: WAVES to access an additional discount on the best available rates at the time of booking.
The code is valid for a couple of days before and after 15 July 2023.
Mercure Perth
A discounted rate of AUD$189 per room per night is offered to attendees of WAVES conference. To book, click on this link.
Veterinary Referral & Emergency Services