Diagnostic Imaging Service
Ultrasonography uses high energy sound waves to evaluate tissues and organs in the body. These sound waves pass into the patient and are either absorbed or reflected to the transducer/receiver. The varying degree of absorption or reflection by different tissues results in the production of different signals which are converted into real-time images viewable on a screen. Ultrasonography is non-invasive and is most often used to examine the abdominal and thoracic organs such as the liver, spleen, pancreas, bladder, gastrointestinal tract, and heart. It can also be used to assess the eye, tendons, and more peripheral soft tissue structures like muscles or external masses.
Abdominal Ultrasonography
Abdominal ultrasound is one of the most commonly performed imaging procedures in veterinary diagnostic imaging as it allows non-invasive assessment of abdominal organs. Abdominal ultrasonography is very useful when evaluating for diseases like pancreatitis, abdominal cysts, bladder stones, tumors, etc. Ultrasound can also be used to guide biopsy needles into solid tissue and also perform fluid sampling. This ensures that the appropriate tissues and areas are sampled safely and accurately
Patients need to be fasted overnight for abdominal ultrasonographic examinations as gas and food in the gastrointestinal tract make it difficult to see underlying organs.
Sedation is frequently required as the patient will need to be relaxed and still in order to optimize imaging and facilitate fine needle aspirate sampling. A general anaesthetic is only required when taking large tissue biopsies due to the need for patients to remain completely still.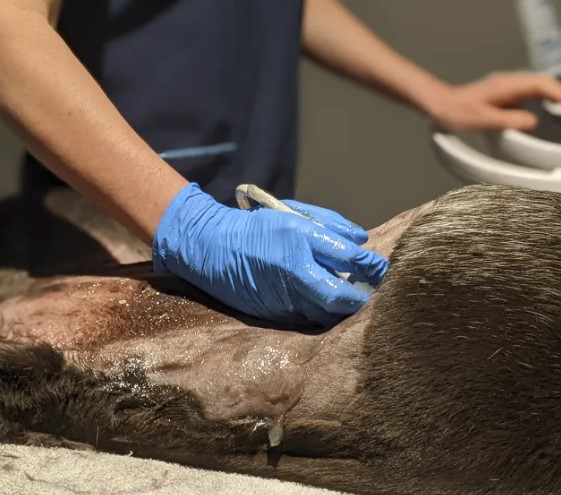 Have you been referred by a vet? Please complete the registration form.
Diagnostic Imaging Services
OUR DIAGNOSTIC IMAGING TEAM
Meet Our Diagnostic Imaging Team
Veterinary Referral & Emergency Services